When working on an IT project with a software development firm, one of the most crucial questions is always how much it will cost and whether a fixed price or time and material contract is ideal. The budget is a critical factor to consider when developing software as it is not cheap. It is a substantial expense for small businesses or startups looking to invest in an app, so they hunt for discounts everywhere they can.
We will be analyzing the two most common types of settlement options in the industry – time and materials contract vs fixed price contract.
What are Time & Material Contracts? T&M Meaning
Time & material pricing is sometimes referred to as T&M. So, what is t&m you may ask, t&m contracts require both parties to agree on defined unit rates for materials and labor, and there is no predetermined price for construction. A t&m contract is a popular pricing scheme because it isn't solely concerned with the budget but also with the client's needs.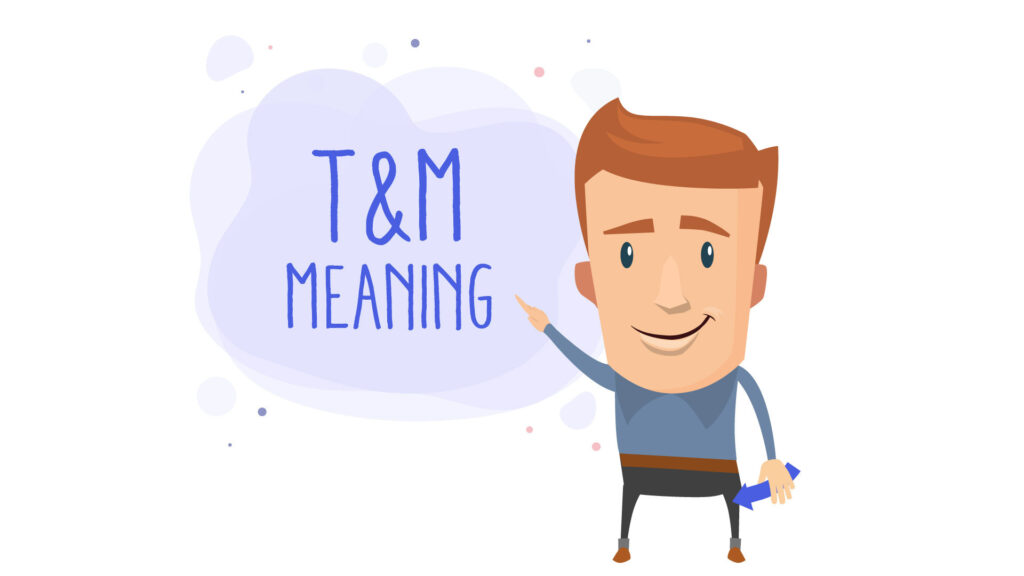 When to use time and materials contracts?
If you don't know exactly how much time and resources the project will require, a t&m contract is the ideal solution. It's beneficial when one can't foresee whether or not the project will require changes over time or when it's expected to.
How to manage time and material contracts?
Start by identifying the flexible dimension. Consider the project's three primary dimensions: schedule, cost and scope. Which of the three is the most important? Try to rank – order them before beginning work under such a contract.
Next, define quality. In any project, there is an idea of what "done" and "good enough" look like. The deliverables in a time and material pricing model are labor hours instead of tangible assets. As a result, quality must be defined at the task level.
Finally, manage the expenses. This can be achieved by practices such as selecting features based on priority and keeping a tight leash on testing costs. For example, avoid exhaustive testing and automate repetitive test cases.
Advantages and disadvantages of time and material contract
Before settling on this pricing model, let's look at some of the advantages and disadvantages of time and material contract.
One of the main advantages of a time&materials contract is it offers better control over a project. It is commonly employed in Agile development because it allows the client to participate in the job.
Another advantage of a time&materials contract is it allows for a dynamic decision-making process and faster project start. A project's early start will benefit a large number of startups. T&M allows for decisions to be made during the development phase while the work is still being done.
Time and material pricing also presents disadvantages like limited budget control. Work that isn't constrained by a strict plan and timetable, as with a Fixed Price model, means that one may have to pay considerably more than expected at the end of the day. A simple solution to this is only to request new functionalities that will genuinely benefit your business. Another major challenge presented by t&m contracts is uncertain timelines. If one loses control over a project, the deadline may move to a distant point in the unforeseeable future.
What is the Fixed Price's Definition?
A fixed price definition is a sort of arrangement in which the cost is unaffected by the utilization of resources or the amount of time spent on a project. The client only has to pay one amount through a payment software to obtain the product.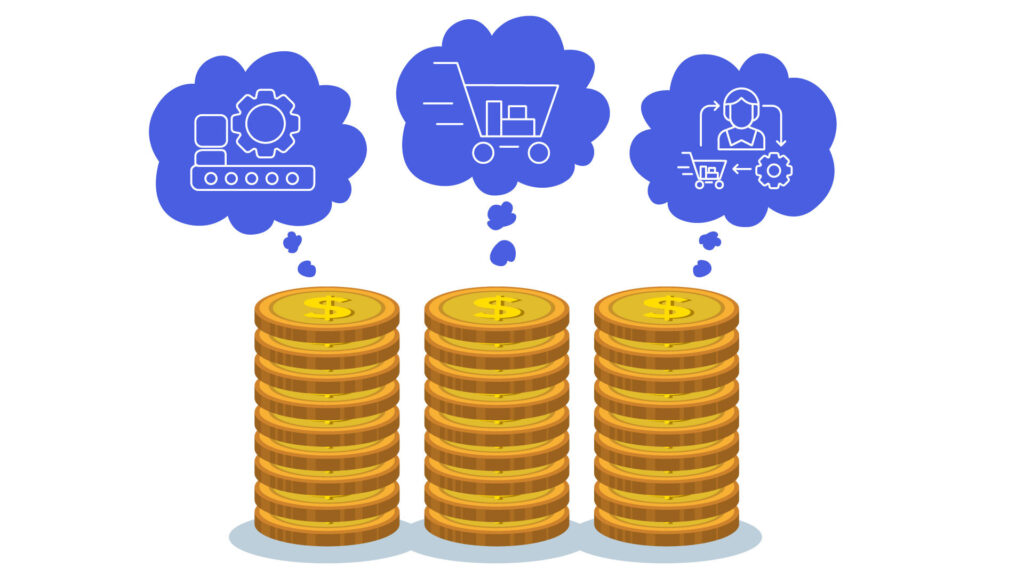 When to use fixed price contracts?
After the one-time payment is expedited, the software development company must then distribute this money in order to meet the target and cover the necessary costs. This type of contract is ideal for projects where the requirements are clear and there are set deadlines, and the budget is fixed or limited.
How to manage fixed price contracts?
Managing a fixed price contract is quite straight-forward. The contract should clearly outline the buyer's and seller's responsibilities. These include delivery date information, testing comments, and adhering to quality criteria. The contract strengthens the buyer-seller working relationship.
Advantages and disadvantages of a fixed price contract
One of the advantages of a fixed price contract is it ensures certainty about the cost. This pricing arrangement provides both parties with a sense of stability, which is especially beneficial for startups and small businesses working with a tight budget. They pay the agreed-upon sum and let the software developer take care of everything else.
Another advantage of this type of contract is there are clear deadlines. Fixed price contracts demand careful preparation — every detail must be taken into account when estimating prices. This method makes predicting how much work will be required and when the project will be completed much easier.
Fixed price contracts also come with their fair share of disadvantages, higher project costs included. If changes can't be made to the budget during the project, the software development firm must anticipate all possibilities and be prepared. To avoid risks, the price under the Fixed Price model includes a reserve.
Another major disadvantage of fixed price contracts is they are not flexible to changing conditions. If market demands unexpectedly change, there is only one allocation for revisions inside the budget, which may be limited given the previously indicated strategy.
Difference Between a Fixed Price and a Time & Material Contract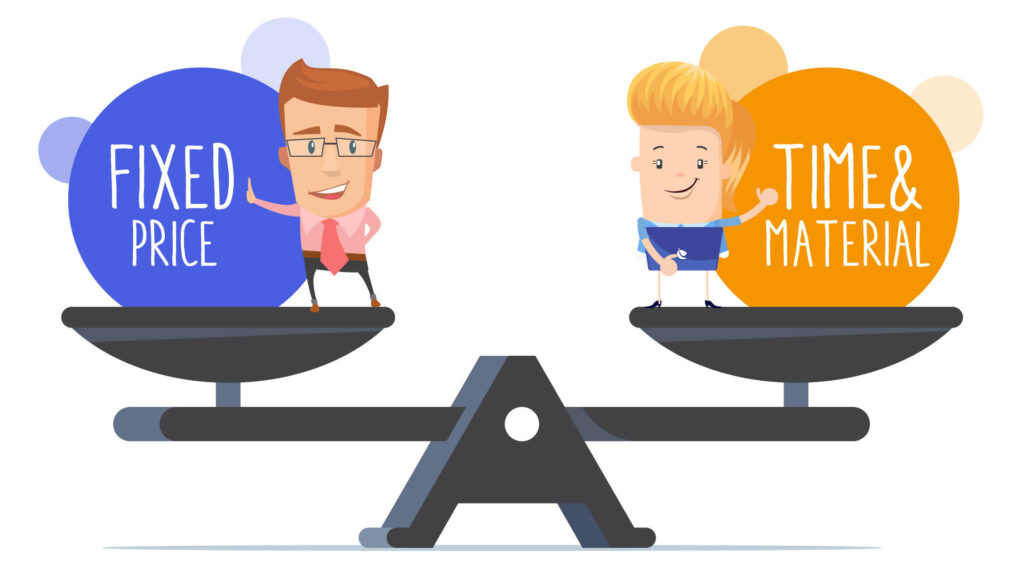 These two settlement contracts are complete opposites. They provide varying degrees of flexibility and are appropriate for a variety of purposes. Now, let's take a closer look at the difference between fixed price and time & material.
A fixed price contract specifies the service to be rendered in great detail and then establishes a single price, irrespective of the time and expenditure your organization incurs. A fixed-price contract usually comprises a down payment, many payments over the course of the contract as certain stages of project completion are accomplished, and a final bill once the contract is concluded. On the other hand, time-and-materials charges the customer for the hours worked on the project and any expenses incurred.
Time and Material vs Fixed Fee – Which to Choose?
We already know that these two solutions have different scopes of possibilities. The question is, which one best suits your next IT project, fixed bid or time and material?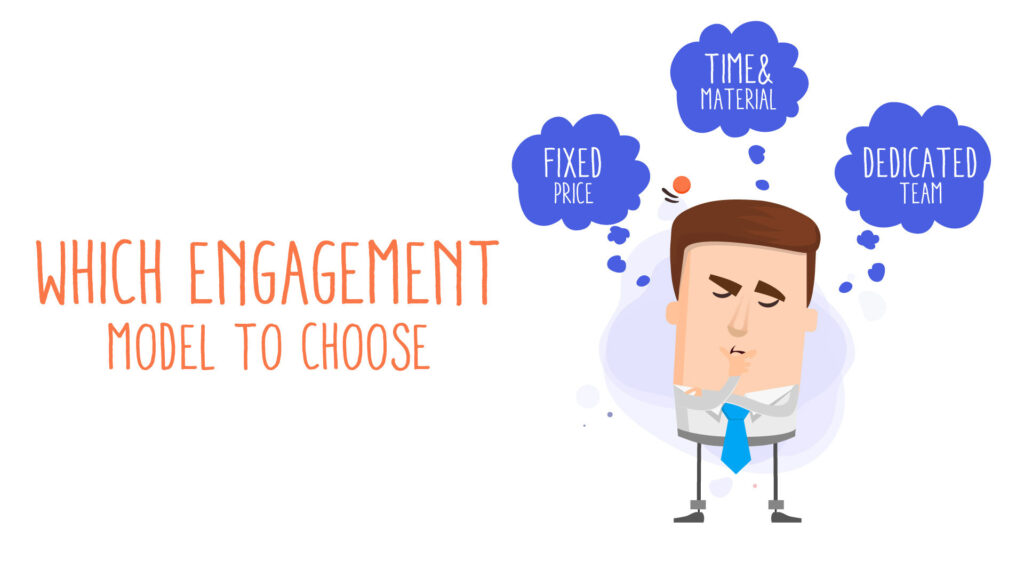 Fixed bid is ideal for projects:
With a tight budget
With specific needs
That have set deadlines
Minimum viable products (MVP)
That are small
With limited functionalities
Time & Materials is ideal for projects:
That need to respond to shifting market demands
With the likelihood of being a long-term situation.
That are likely to change in the development phase
That don't have set requirements
That is only an idea that needs tweaks to be shaped into a product.
How to Create a Time & Material or Fixed Price Contract?
You must first understand your aspirations and capabilities before making a final decision on what pricing model to use, time and materials vs fixed fee. The body of work that the development team will be required to complete and the expense you are willing to bear are two of the most significant aspects to consider.
If you are wondering about a best solution, find what solutions our software house proposes or ask us in the form.