Do you have an idea for medical software and you don't know where to start?
After reading this article you will be aware of options when it comes to custom medical software development outsourcing.
Choosing the right partner is not an easy task. For that reason, we prepared the essential guide that will help you understand what next steps you need to take to make your idea come true.
Whether you are responsible for the software in a healthcare clinic, government, or health-tech startup this article will give you vital knowledge about the possibilities and pitfalls that come with custom software development.
Without further ado, let's dive in!
The Most Popular Healthcare Software Solutions
Every year the medical solutions market brings new ideas for making a life of healthcare professionals and patients easier. These solutions were once just an idea in someone's head that custom medical software development made possible to make a reality. Custom software development means coding new innovative software features from scratch. Without relying on ready-made code solutions your only limit is time, money, and hardware capabilities. The power of custom software lies in limitless possibilities.
That means you can merge the functions from different types of software into one product or bring to life unique features that solve your particular problem.
Creating custom software enables you to choose only the options that you need which result in time and resource savings.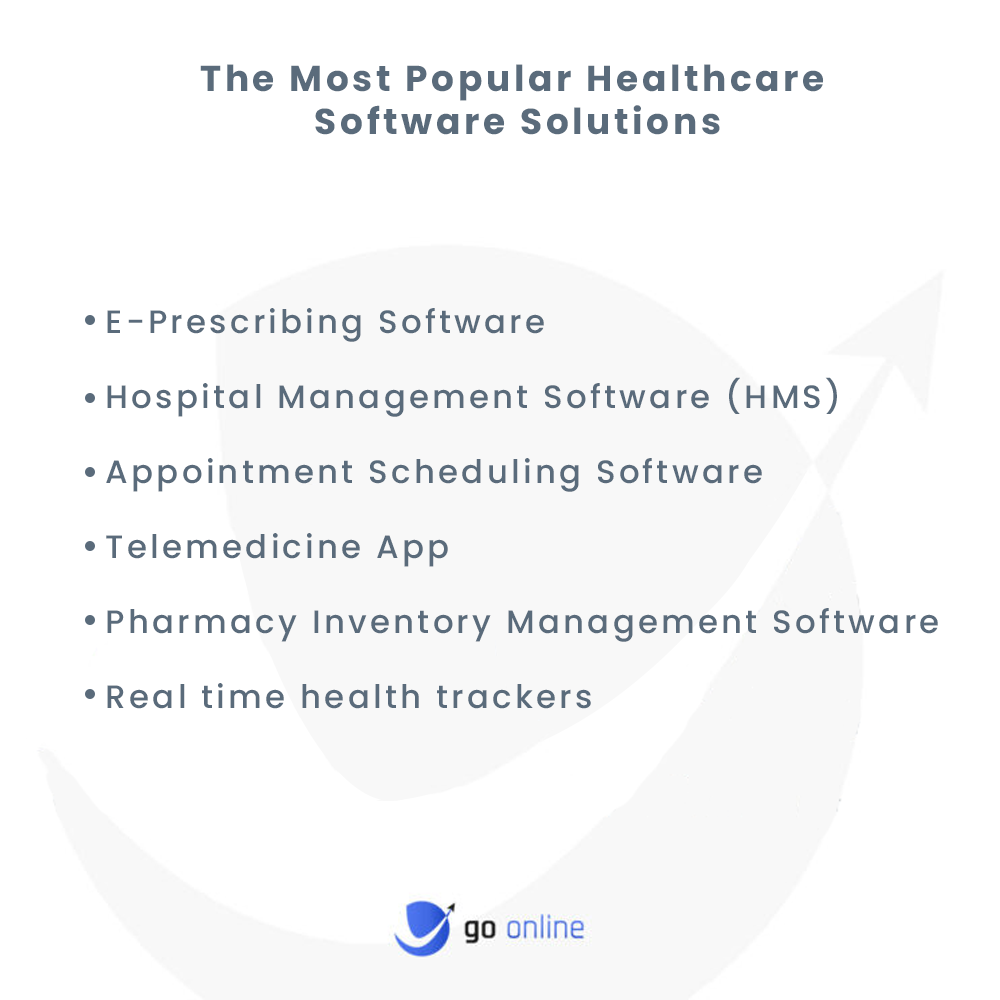 Even if you have completely unique idea for your product it is worth looking around what are the types of the most popular software solutions that have proven their place in the market.
You can enrich your software product with functionality that has been already implemented in popular software before.
Here is a list of the popular software solutions and their features that might introduce you to the possibilities of custom software development.
E-Prescribing Software
E-Prescribing Software is getting more popular among European countries, especially since the age of covid. The system enables healthcare professionals to write e-prescriptions that are visible for every pharmacy in the country. E-prescribing software demands pharmacies to be connected to a database that is usually supervised by the government. This brilliant solution not only makes everyone's life easier but also saves a lot of the national budget. But how does it makes life easier?
Every licensed doctor is able to check patients' prescriptions records during visits due to connection to the national database. Thus doctors can avoid extorting prescriptions for psychoactive substances. Also, it ensures doctors give proper prescriptions even when the patients do not remember the dosage time or name of the meds that they take.
From the patient's side, it's very convenient to manage their prescriptions and redeem them which diminishes the probability of losing important prescription and minimize problems with unclear handwritten prescriptions. Depending on the country's law it may also enable family members to buy the prescription for the patient that is unable to do so without the need to bother with logistics that often comes with analog prescriptions.
Hospital Management Software (HMS)
Also known as Medical Practice Management Software is the software that helps manage and share every important data in medical practice's day-to-day operations.
Here are the examples of HMS functionality:
Tracking the medical record of patients
Organizing patients' contact details
Organizing schedules for the entire hospital staff
Managing finances
Lab Management
Supply management
Quality control and patient satisfaction management
Medical Staff Management & HR Solutions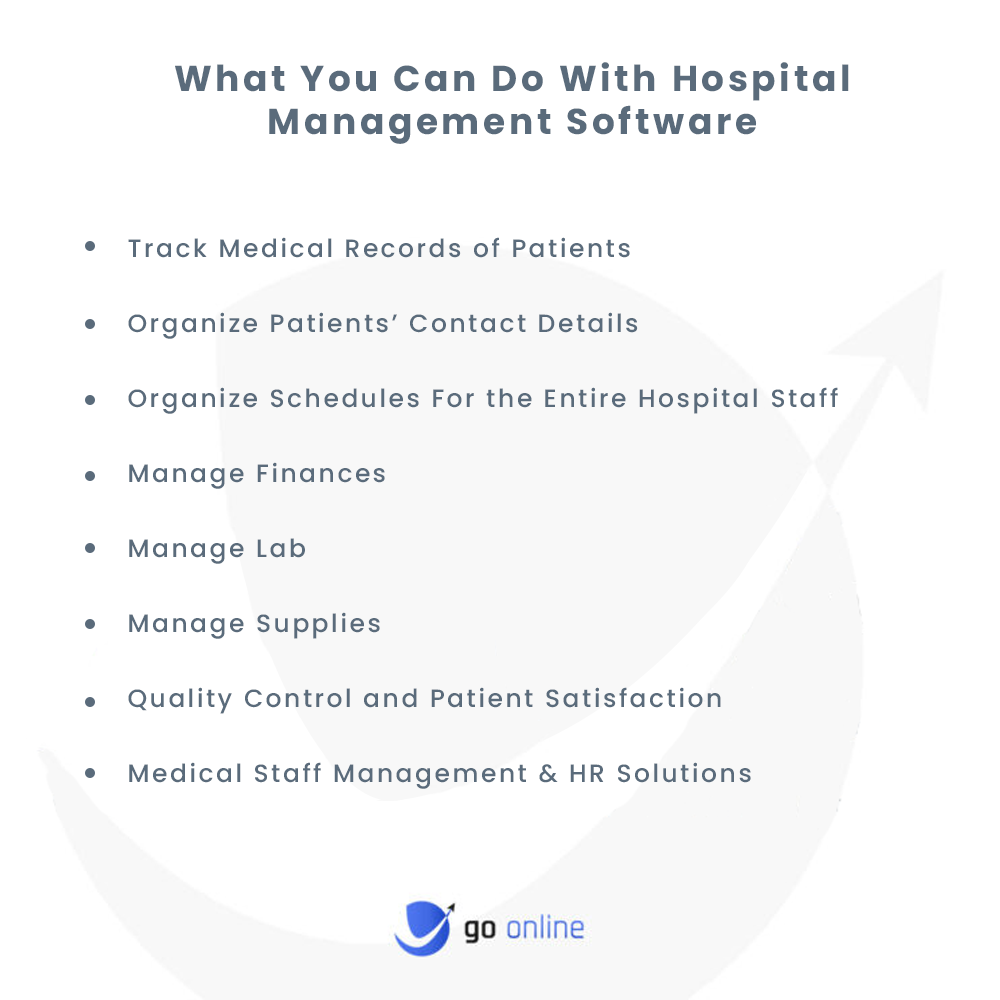 Appointment Scheduling Software
The core functionality of Appointment Scheduling Software is simply to search for healthcare specialists and schedule appointments. The reliable database of specialists with a review system allows for finding the best expert for your needs. Its functionality enables easy communication between visits and has a lot of potential for scaling up with additional useful features such as medicine reminders.
In some countries, there is still an undeveloped market that can be a good place to kick off your B2C startup.
Telemedicine App
This kind of solution allows patients to have a convenient and safe online meeting with healthcare professionals. Most often it takes the form of video calls or audio call that is easy to manage even for not very tech-savvy people. Telemedicine app functionality has everything needed for seamless online visits like sending medical documents, code for e-prescriptions, and more.
The newest trending app functionality of telemedicine apps often overlaps with appointment scheduling software so stakeholders can do everything within one application.
Do you know what is the most popular business model in these kinds of SaaS?

The business model of these apps most often is based on sponsored lists, positioning packages, and various types of small fees imposed on the service providers.

The fees can be imposed for every client they have, or on a fixed periodic rate.

Pharmacy Inventory Management Software
Managing pharmacy supplies requires a special approach due to safety policies.
With inventory management software, you are able to check inventory in real-time, access meds information, create supply orders, track drug shipments, and more.
The most common choice for these kinds of software is an off-the-shelf solution.
The functionality of the software mostly does not need any additional innovative solutions to the degree of creating software exclusively for certain pharmacy brands.
Nevertheless, there might be a place for the new competitor in the off-the-shelf market.
Real-time health trackers
With the fast-growing popularity of smartwatches, the market for real-time health-tracking software exploded. The ability to measure pulse, heart rate, and other parameters gave birth to various software that analyzes your health parameters. The software works by collecting data to show any inconveniences from normal parameters so your doctor can have a broader overview of your condition.
Custom medical software can be also utilized for creating software for custom real-time health-tracking hardware that goes beyond fitness gadgets, and can be used as an important part of treatment or diagnosis.
How to Choose Medical Software Development Partner
Deciding to outsource medical software development is a major decision that has an impact on your project's success. If you are making your first steps in creating a digital product you to be aware of cooperation models with software development partners.
When choosing medical software development partner you have 3 options:
You can augment your current team with talents from another company
You can hire a dedicated team for your project
You can choose a project-based model that will shift the burden of work to the software house almost entirely
6 essential tips that will help you to avoid future troubles
1. Check their previous work
The first step to evaluating software house expertise is to check their previous experience and clients.
It's not always possible to get access to software made exclusively for medical purposes which are often covered by NDA. In this case, you can evaluate their expertise by the number of complex solutions they made in past even for industries not particularly connected to yours.
Tip: Limiting yourself only to software houses that specialize in medical software solutions only may decrease your options and as result increase the costs.
Their experience may be beneficial but is not always worth an additional amount of money for every project you plan.
2. Conduct the interview
In this step, you can evaluate how communicative the team you will be working with is.
Efficient communication is the key to a successful software product. Companies that make you wait forever for every response are definitely a no-go. After the interview with the staff, you should feel that you are not their "next project to finish and forget about" but rather a partner to collaborate with.
This is the advantage of smaller software houses because most of the time the team is more dedicated to the project they are part of. Do not expect the project to be made quickly. The development process especially when it comes to custom software development takes a lot of planning, iterations, and tests.
The more of these in the development stage, the less in the support stage.
Tip: Suggestions and questions beyond your established expectations are a good sign that the team is motivated to be part of your project.
3. Check their online reputation
There are multiple ways to evaluate the online reputation of the company. The most important and relevant should be client testimonials from known companies in the industry. You can search for client testimonials on a partner's website or services like clutch.co and designrush.com.
Another step is to check their accolades from reliable entities.
Tip: check if the company is having a bad reputation among employees on services like glassdoor.com, Reddit, or quora.
4. Look for the most cost-effective options
Choosing the most cost-effective option is not an easy task. First, you should limit yourself to any location. Choosing an outsourcing partner based on limited locations might be a big trap.
Creating software mostly remotely is becoming a new standard in the industry and because of that, a location shouldn't limit your choices. The companies are often very experienced with working in multiple time zones.
Look for reliable information on which locations can offer the best quality for the price.
Limiting oneself to for example only English native-speaking countries can make you avoid talented teams from around the world that will deliver you top-quality software for the half price of its equivalent in countries with higher living expenses.
5. Evaluate their Design expertise
Although the graphic design of the software can be changed it is crucial to plan it properly beforehand.
Design is not only about usability and software reliability but also the look and feel of the software.
The software graphic design is part of your brand and part of your customer's experience.
The app should be pleasant to look at as much as for example your hospital interior design.
Changing the design in the late stage of development might be related to unnecessary costs that might be avoided with proper planning.
6. The bigger size companies are not the obvious answer to your problems
People tend to trust bigger companies more than smaller ones. The size of the company might suggest its expertise or reliability. We would like to emphasize the advantages of hiring small or mid-software houses. First of all, the culture is smaller companies make the staff identify with the work they do.
Your product is their main focus. Small to mid companies often have a business model that is called "boutique". That means they will deploy more amount of time and dedication to your project, so you
have more freedom in communicating your custom needs.
How Does The Custom Medical Software Development Process Looks Like?
The development process might vary depending on the company you choose but the overall scope of work tends to be pretty similar for every company. After finding the right partner for your project you will be interviewed about the details of your product.

An example of the development process: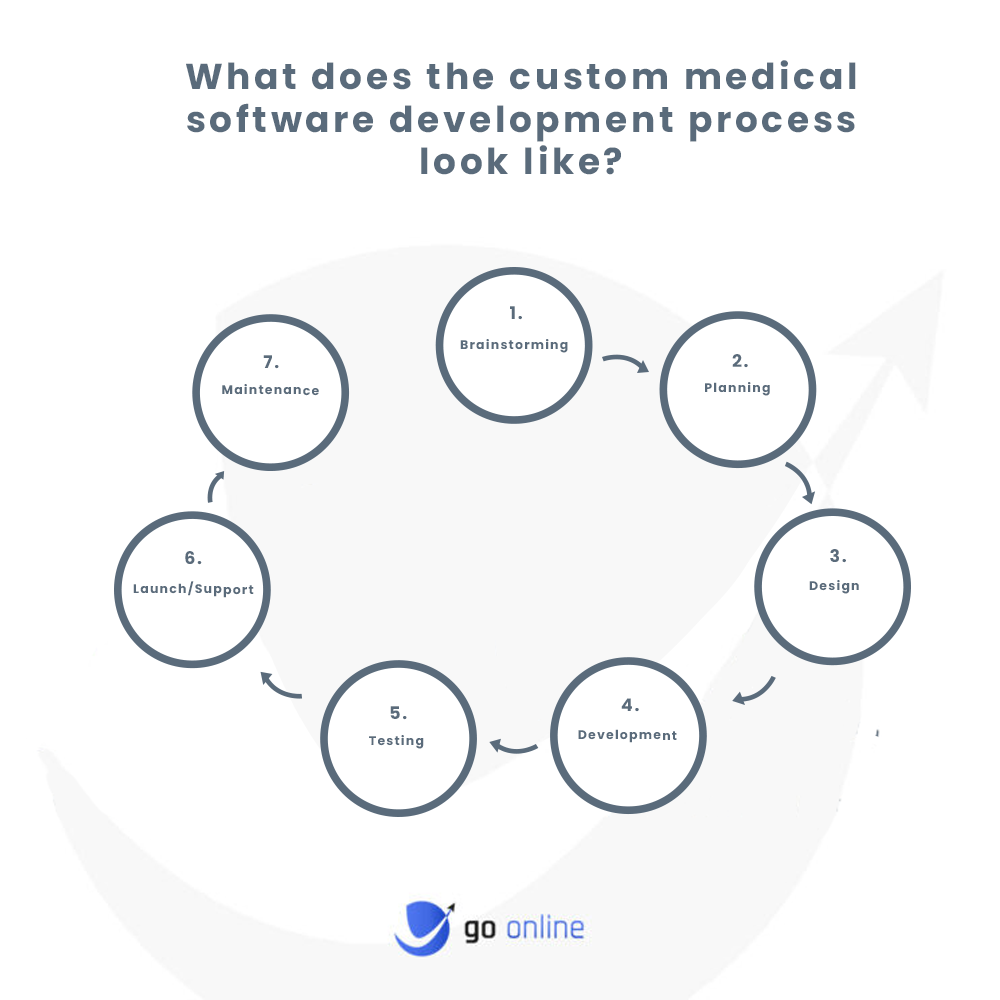 1. Brainstorming
The first stage of the development process is to establish functionality based on your business needs.
In this step, there are created multiple versions of wireframes.
The goal of the process is to gather as much information about your ideas as possible and then narrow them down into the most necessary features to create the best option for your budget.
2. Planning
In this stage, it is essential to gather as much data about the project as possible.
The ideal scenario is to utilize data from research with end-users needs.
The proper planning phase allows you to save a great amount of time and money that would be spent on unnecessary features or additional rounds of iteration.
3. Design
The final result of this step is a fully developed design of custom software.
Developers and designers work together to create a design that will be manageable to implement in a given timeframe.
4. Development
Once the wireframes are laid out developers can start to turn the design into fully functional software. It's worth mentioning that this stage can force developers to go back to the previous stage to create design changes that will allow for better software performance.
5. Testing
The development process is completed, now it's time for quality assurance testing (QA).
Testers come up with multiple scenarios in which software can show any signs of issues.
The proper testing phase will decrease potential errors in the software to a minimum.
6. Launch/Support
The product is ready for market. In this stage, the software house will assist you with any additional changes that might come with users' feedback.
7. Maintenance
It means updating software to the newest operating systems or scaling up the software. It might necessary to stay ahead of the competition that brings richer features.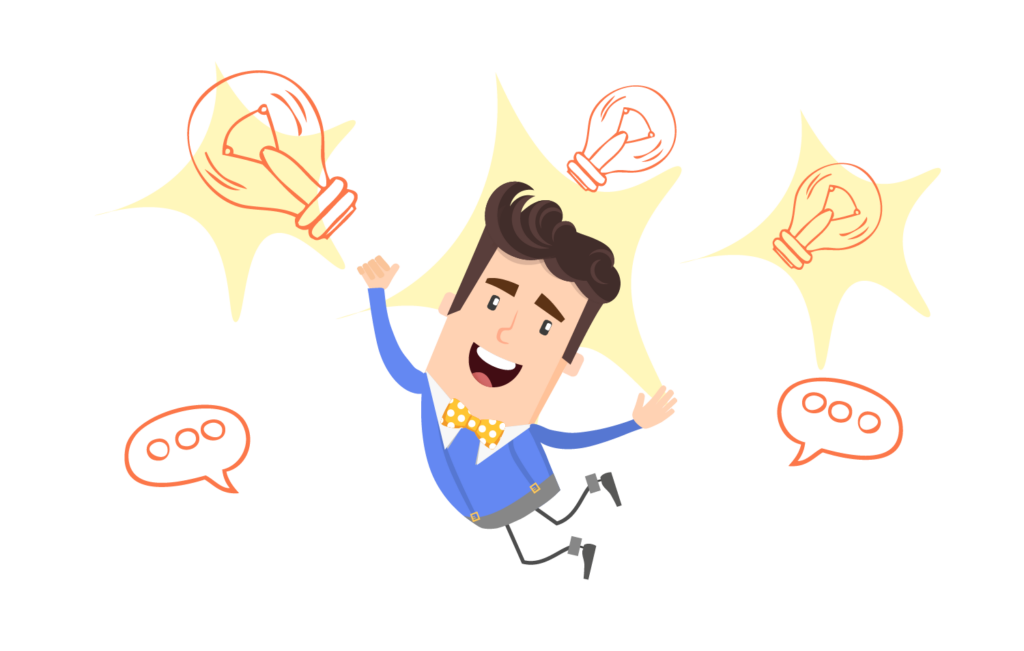 Final Words
Custom medical software development outsourcing allows you to create software one of its kind.
The options available are limited only by time and resources. After reading this guide you have the essential knowledge to avoid the most common pitfalls and choose a reliable software partner.
If you are interested in developing medical custom software you can reach out to us for a free consultation to establish an initial plan.